An Electronic Baptist Journal Bridging Yesterday and Today
[Vol. 15, No. 6]

Editor: Bruce T. Gourley, executive director, Baptist History and Heritage Society
The Baptist Studies Bulletin (BSB) is a free online journal produced by the Baptist History and Heritage Society (BH&HS) and offering scholarly analysis, informed editorials, book reviews, and special features for subscribers. You may access previous issues to or subscribe or unsubscribe from the BSB. Republishing of articles is allowed, but please provide credit and a link back to the Baptist Studies Bulletin.
If you find the Baptist Studies Bulletin useful, please consider joining the Baptist History and Heritage Society and/or donating to the Society.
TABLE OF CONTENTS
"The Measure of Biblical Faithfulness"
by Bruce T. Gourley
"Perspectives from a Young CBF Baptist: Profile of a Leader: Daniel Vestal"
by Emily Holladay
Associate Pastor (Children and Families)
Broadway Baptist Church, Louisville, KY
"Reading the Bible Today: Grace: Transactional or Transformational?"
by Mark E. Biddle
Russell T. Cherry Professor of Old Testament
Baptist Theological Seminary at Richmond

"America's Religious Heritage:" A Colonial Williamsburg Experience
September 19-21, 2016
Sponsors: Nurturing Faith, Baptist History and Heritage Society, Virginia Baptist Historical Society and the Baptist Joint Committee for Religious Liberty
_________________________________________________________________________________________
THE MEASURE OF BIBLICAL FAITHFULNESS
by Bruce T. Gourley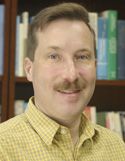 The killings of black men in America continue, the stories unfolding within an all-to-common world of African American hopelessness, fear and anger.
Tragically, this American legacy owes its origins to the determination, by America's theocratic colonies of the 17th century, that black persons were inherently inferior to whites and therefore should be treated as subservient. One might conclude that this decision reflected the financial interests of white landowners, but slaveholders noted that the Bible plainly sanctioned the enslavement of humans. Never mind that the Bible did not actually distinguish among light and black skinned races; a clumsy interpretive sleight-of-hand enshrined white supremacy, enforced by violence, as God's will.
Many of America's African American neighborhoods are yet living with the legacy of that brutal, barbaric combination of literal and creative biblical interpretation.
Last year Albert Mohler, president of the Southern Baptist Theological Seminary, wrestled with the relationship between his institution's racist legacy and theological fidelity. He rightly called "racial superiority," vividly embraced by the seminary's founders, a "heresy" void of biblical support. At the same time he praised the slaveowning founders as biblically orthodox. And in a notably self-defensive manner, he declared that apparently "no one ever confronted the founders of the Southern Baptist Convention and The Southern Baptist Theological Seminary with the brutal reality" of white supremacy and slavery.
Quite to the contrary, Southern Baptist leaders, like other educated white elites of the South, were only too well aware that many abolitionists from the 1830s forward highlighted the brutality of slavery and advocated for racial equality. Baptist newspapers of the South routinely criticized and dismissed those who insisted upon the sinfulness of slavery and demanded equality of the races. Among the offenders was Northern Baptist minister Francis Wayland, who remained in public, published dialogue with Baptist leaders of the South up until the Southern Baptist Convention was formed in defense and perpetuation of black slavery.
Wayland, insisting upon the equal rights of blacks, to the horror of southern slaveowners declared that "the gospel makes no distinction between men on the ground of color or of race. God has made of one blood all the nations that shall dwell on earth."
While defending the founders of SBTS as innocents caught up in the clutches of a slave culture, Mohler adroitly refrained from condemning slavery, a practice liberally and literally embraced and condoned in the Bible, as heresy. In a more recent article, on the other hand, he acknowledged that enslavement of humans is sinful. In so doing he essentially rejected, like most other contemporary Christians, the literal interpretation and textual perfection of scripture in the matter of slavery.
From fundamentalists to liberals, most Christians in reality hold a nuanced view of the Bible as the intersection of humanity and the divine. The biblical text is often captive to particular empirical, cultural and social settings, portraying truth partially, imperfectly and within the constrained limitations of an ancient context, of which slavery is but one example.
Not every instance where the Bible purports to speak on God's behalf is legitimate. The Bible in Exodus 21 (part of the larger package of laws including the Ten Commandments), speaking as God's voice, is one of many scriptures outlining God's slavery commandments. Among the various biblical laws therein are instructions to fathers for selling their daughters into slavery, as well as commands regarding limits on the beating of slaves. In reality the writer of his own volition imposed God's voice upon common, widely-accepted practices in the larger Middle East of that era.
To be blunt, the Bible is wrong on the issue of human slavery. Even an avowed inerrantist like Albert Mohler concedes the practice is sinful. The lesson herein is that Christians must be careful to understand within context and reject in practice biblical writers' embrace of ancient cultural practices, norms or prohibitions that do violence to, oppress or marginalize individuals or people groups.
Faithfulness to the Bible is best measured in fidelity to the central and transcendent scriptural imperatives of doing justice and mercy (Micah 6:8), loving others as oneself (Mark 12:31), and embracing human equality (Galatians 3:28). For white majoritarian Christians of the Western world, only then will black lives and that of "others" truly matter.
_________________________________________________________________________________________
PERSPECTIVES FROM A  YOUNG CBF BAPTIST: PROFILE OF A LEADER: DANIEL VESTAL
by Emily Holladay
Associate Pastor (Children and Families)
Broadway Baptist Church
Winston-Salem, NC

Twenty-five years ago, a Texas preacher called a meeting in Atlanta, Ga., for concerned Baptist ministers. This man had been the sacrificial lamb sent before the Southern Baptist Convention multiple times as the "moderate" candidate for President of the Convention. Over and over again, the Convention voted against him, until finally, it became clear that they were not just voting against him, but against us – the "skunks" who by any other name still stink (paraphrase of W.A. Criswell's sentiments).
This preacher – this shepherd – called together the flock of Baptists wandering lost, without a home, and said, "let's create something. Let's build a new home."
Expecting a few hundred people, Dr. Daniel Vestal stood amazed by the thousands of people who joined him in Atlanta seeking refuge. Seeking hope. Seeking a leader to take them to the promised land.
Vestal looked out on the thousands gathered, and had compassion for them. He stood with them in solidarity, grieved with them as the landscape of their faith home withered, and prayed over them words of hope and peace.
This leader walked from within the flock, journeying with them on the scary road to a new pasture. He guided them with gentle nudging and firmly held faith in the God who began the good work within them. His hope rested far beyond personalities and structures – but in the God who far surpasses any human creation.
Daniel Vestal risked his livelihood each time he stood before the Convention as candidate for President. Along with many friends, he put his security on the line by hosting a meeting that would be the catalyst for the creation of the Cooperative Baptist Fellowship. Over and over again, he put his name, his job, and his calling on the line so that thousands of people – many whose name and face he did not know – would have a place where they could proclaim, "Jesus is Lord" without fear of abandonment or destruction of character.
A few years after the creation of the Cooperative Baptist Fellowship, Vestal would be named the organization's second Executive Coordinator. His leadership would carry the organization for 16 years – creating numerous jobs, commissioning hundreds of field personnel, and remaining faithful to the God who called us into this great work in the first place.
During Vestal's last three years as Coordinator, I had the honor of working with and for him, and the joy of being mentored by him. Though I was the lowest on the totem pole, he still took time to invest in me and my formation as a leader within this organization that I love. He inspired me to ask questions, seek discernment, and serve before demanding my way.
Through my time in the CBF Resource Center, I learned many lessons from Daniel, as he asked me to call him. I find it impossible to look towards the next 25 years of CBF without remembering the legacy and leadership he offered. So, I want to share the three most important lessons I learned from Daniel that I hope we will carry with us into the next 25 years of CBF and beyond:
"We are servants, not masters." Every time the CBF staff gathered for all staff meeting, Daniel spoke these words. He asked us to constantly find ways to meet the needs of the CBF constituency. It is not for us to tell them what they need – we are to listen and learn where their deepest needs are and find ways we can meet them. During his tenure at CBF, what is now known as the Global Office was called the CBF Resource Center – a name chosen because of the emphasis on resourcing those whom we serve.
You are never too busy to provide a high touch. While I never heard Daniel speak these words specifically, this was how he lived. When my grandma died, Daniel came to my desk to ask how I was and to ask for my dad's (a CBF pastor) phone number. Not 15 minutes later, he called my dad to offer condolences and prayers. And this was, and still is not, unusual. I can't imagine the number of people who have similar stories. During his time at CBF, Daniel instituted a process for CBF staff members to call church pastors and ministers, for no other purpose than to see how they are doing. This type of relationship building and compassion is lost in many organizations and even churches presently.
"Treasure this moment." Daniel is the type of person who values the present so deeply that you have to pester him pretty incessantly to get him to tell you stories of the past. As a seminarian, he pressed upon me the importance of "not wishing it away. Seminary is only three years, and after that, you won't have the same protected environment in which to express yourself again." Originally, I thought that was advice just for my seminary days, but it has carried me through many days after. I find that it's much easier to imagine another time and place as being better – more vibrant – than the one I'm in, but savoring the moment and learning how to be where I am has provided more joy than I could imagine.
Another wise mentor once told me to "shepherd the flock you've been given." Daniel Vestal is the epitome of a shepherd. And, his flock is eternally better off for it.
Read Emily's blog at RevOnTheEdge
_________________________________________________________________________________________
READING THE BIBLE TODAY: Grace: TRANSACTIONAL OR TRANSFORMATIONAL?
by Mark E. Biddle

Mark E. Biddle, Dr.Theol (Zürich), is Russell T. Cherry Professor of Old Testament at Baptist Theological Seminary at Richmond. He has authored six books, ten translations, and more than 150 articles, reviews, and lectures. He is editor of R&E, and of the Reading the Old Testament (Smyth & Helwys) and the Smyth & Helwys commentaries.
This time of year means preparation for facing first year students. Most have never engaged in rigorous academic study of the Bible. They come to seminary as I came to my undergraduate religion major, innocently expecting that the Bible says what they have always thought it said and that serious study of it will only confirm what they already believe. My calling asks me to nudge and cajole, nurture and confront my students to read the text. It is impossible completely to set aside one's assumptions and convictions in order to open oneself to new insights, I know, because after decades of studying scripture academically and devotionally as my life's work, the Bible still surprises and shocks me regularly.
For example, while working on my commentary on Judges, I realized that for over twenty years I had wrongly been teaching what I had been taught about the theme of the book instead of what the book itself says.  Scholars identify in Judg 2:6ff. what they term the "Deuteronomistic Paradigm" of Israel's history. It offers the scheme that the authors/editors of the six volumes that comprise the Former Prophets section of the Hebrew Bible, a section also known to scholarship as the Deuteronomistic History.  According to the scheme, Israel's history since at least Joshua's death (but arguably reaching as far back as the Golden Calf episode) manifested a repetitive cycle in four phases: (1) Israel sinned by worshipping strange gods; (2) God "handed them over" to their enemies; (3) Israel "cried out" (Hebr. z`q) in their distress; (4) God raised up a deliverer.  After a period, the cycle then repeated.
For decades, I taught that this paradigm involved Israel's repentance as part of phase three. The literature on Judges, the Deuteronomistic Paradigm, and the Deuteronomistic History assumes that Israel must have repented.  I assumed it, too.  Otherwise, God would not have sent a deliverer.  Unfortunately, that is not at all what the text says.  Instead, the text seems intentionally to allude to God's response to Israel's distressed cry (Hebr. z`q) in Egyptian bondage (Exod 2:24) that prompted God to remember God's covenant/promise to Israel's ancestors.  In fact, the verb used in both contexts connotes a cry for assistance, not a cry of despair or of repentance.  According to the text, God sent deliverers (Moses, then the judges) in every case, not because Israel had improved its attitude and changed its behavior, but because God was moved by their plight and God's original promise to their ancestors. As when God called Abraham, God acted purely out of grace. There was no transaction:  "Repent first, earn it, and then I will deliver you."
Jesus offered grace in the same way.  From afar, ten lepers, one a Samaritan, called upon Jesus to show them mercy.  He told them to present themselves to the priests and, as they departed to do so, they were healed.  Only one, a Samaritan, paused to thank Jesus.  Not one word passed between Jesus and these ten about repentance or even about becoming disciples.  Grace transforms people; it does not require people first to conform to some expectation.
I am not a Calvinist (see "Making Theological Trouble for Ourselves"), but I do find truth in the Calvinist doctrine of "prevenient grace," the notion that God's grace "comes before" everything else in our relationship to God.  We can love God only because God first loved us – when we were most unlovable (Rom 5:8).
Why, then, do we find it so difficult to emulate God in extending grace? I once served a church that would not allow youth to go along on youth outings unless they had accumulated a minimum of "points" awarded for attending church, Sunday school, and youth group meetings. People use the very popular slogan about loving sinners but hating sins to conceal the fact that they are unwilling fully to extend grace to categories of people until these people conform to some standard. The lepers did not first become well in order to receive Jesus' grace.  Jesus' grace made them well.
Conveniently, of course, the "sins" people hate are always someone else's.  The slogan also conceals the fact that no one can cast the first stone. All of us receive God's grace "while we [are] yet sinners" (Rom 5:8).
Can it be that those outside the church look at all of us who profess the Gospel as hypocrites because of our tendencies to use grace transactionally?  to offer it on a quid pro quo basis? to withhold it until the other party deserves it in our eyes?  Such attitudes deny the very essence of grace – the fact that it is always undeserved.
Mark Biddle blogs at Mostly on the Bible, where this article was originally published.

________________________________________________________________
"AMERICA'S RELIGIOUS HERITAGE:" A COLONIAL WILLIAMSBURG EXPERIENCE
September 19-21, 2016
Hosts: John Pierce, Pete Parks, Bruce Gourley, Fred Anderson
Sponsors: Nurturing Faith, Baptist History and Heritage Society, Virginia Baptist Historical Society and the Baptist Joint Committee for Religious Liberty
You are invited to step into America's religious heritage.
Schedule:
Monday, Sept. 19
• Welcome dinner and address by historian David Holmes, author of The Faiths of the Founding Fathers
Tuesday, Sept. 20
• Personalized tour of Colonial Williamsburg with an emphasis on religious history
• Lunch at Shields Tavern
• Afternoon explorations
• Dinner program featuring Brent Walker of the Baptist Joint Committee for Religious Liberty on "Religious Liberty, Then and Now"
Wednesday, Sept. 21
• Personalized tour of Historic Jamestown by Mark Summers
• A visit with "Mary Buck" (portrayed by Rebecca Suerdieck)
• Jamestown Glasshouse
• Afternoon: Williamsburg Baptist Church, First Baptist Church, College of William and Mary
• Wren Chapel: A visit with "John Leland" (portrayed by Fred Anderson)
• Closing dinner program featuring historian Bruce Gourley
Cost: $275 includes all tours and programs, and lunch and dinner from Monday evening through Wednesday evening. Register online or send a check for $275 to Baptists Today, Inc., P.O. Box 6318, Macon, GA 31208-6318, or call (478) 301-5655 to pay by credit card.
Participants are responsible for their own travel and lodging, with many options in the Williamsburg area.
For more information about the conference, click here.
_________________________________________________________________________________________
CALENDAR OF SELECT EVENTS
Upcoming events of interest to Baptists
SEPTEMBER 19-21, 2016 —  "America's Religious Heritage:" A Colonial Williamsburg Experience. More information.
September 27, 2016 — "Talking about Race: Moving from Racism to Reconciliation." A conference hosted by New Orleans Baptist Theological Seminary's Institute for Faith and the Public Square. Registration is free. More information.
OCTOBER 2016 —  Baptist History and Heritage Month, from the Baptist History and Heritage Society. More information.
JUNE 1-3, 2017 —  Annual conference, Baptist History and Heritage Society, First Baptist Church, Augusta, Georgia. Theme: "Biographies and Narratives: Baptist Experiences and Convictions." More information.