An Electronic Baptist Journal Bridging Yesterday and Today
[Vol. 15, No. 7]

Editor: Bruce T. Gourley, executive director, Baptist History and Heritage Society
The Baptist Studies Bulletin (BSB) is a free online journal produced by the Baptist History and Heritage Society (BH&HS) and offering scholarly analysis, informed editorials, book reviews, and special features for subscribers. You may access previous issues to or subscribe or unsubscribe from the BSB. Republishing of articles is allowed, but please provide credit and a link back to the Baptist Studies Bulletin.
If you find the Baptist Studies Bulletin useful, please consider joining the Baptist History and Heritage Society and/or donating to the Society.
TABLE OF CONTENTS
"Connecting With the Past to Ensure a More Compelling Future"
by Bruce T. Gourley
"Perspectives from a Young CBF Baptist: CBF — Deep, Wide, Limitless"
by Emily Holladay
Associate Pastor (Children and Families)
Broadway Baptist Church, Louisville, KY
"Reading the Bible Today: Take Some Time"
by Mark E. Biddle
Russell T. Cherry Professor of Old Testament
Baptist Theological Seminary at Richmond

A Call for Paper Proposals
BH&HS Annual Conference
June 1-3, 2017
Hosted by First Baptist Church, Augusta, Georgia
Theme: "Biographies and Narratives: Baptist Experiences and Convictions"

_________________________________________________________________________________________
CONNECTING WITH THE PAST TO ENSURE A MORE COMPELLING FUTURE
by Bruce T. Gourley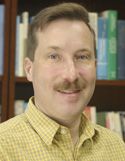 I recently spent a few days in Historic Jamestowne and Colonial Williamsburg, experiencing, as much as possible in the 21st century, the world of early European colonization in present-day Virginia.
Historic Jamestowne is the original site of the first permanent English settlement in America. In recent years archaeologists have made some exciting discoveries, including the graves of four early settlement leaders and the location of one of the earliest church structures built in the New World. Archaeological work continues, with much more yet to be learned on this important site on the banks of the James River.
Colonial Williamsburg, preserved and reconstructed with the assistance of the Rockefeller family, was Virginia's second capital city. The tagline of the Colonial Williamsburg Foundation is, "That the Future May Learn From the Past." The mission of the foundation is "to be a center for history and citizenship, encouraging national and international audiences to learn from the past through the preservation, restoration, and presentation of 18th-century Williamsburg and the study, interpretation, and teaching of America's founding democratic principles."
Citizenship, politics, colonial trades skills and religious dynamics, all integral components of early America, are embodied in the streets, structures and professional reenactors and tradespersons of Colonial Williamsburg.
Baptists played a critical role in colonial Virginia. Despised by civil authorities, religious dissenters were discriminated against and persecuted by majoritarian Anglicans, with the backing of the state. Advocates of equal religious liberty for all and church state separation, Baptists persevered in the face of violent persecution, their determination and commitment leading to the religious clauses of the First Amendment to the U.S. Constitution.
October is Baptist History and Heritage Month, a time when the Baptist History and Heritage Society encourages Baptist congregations to remember their faith heritage and remind congregants why connecting with the past ensures a more compelling future.
The BH&HS provides numerous resources that are helpful for commemorating and celebrating your church's faith heritage, including:
Whether from the pulpit, in a Sunday School class, during a mid-week service, or in a small group study, this month is an excellent time to reflect on the Baptist faith heritage and why it remains important today.
_________________________________________________________________________________________
PERSPECTIVES FROM A  YOUNG CBF BAPTIST: CBF — Deep, Wide, Limitless
by Emily Holladay
Associate Pastor (Children and Families)
Broadway Baptist Church
Winston-Salem, NC

Two years ago, I packed up my cubicle at the Cooperative Baptist Fellowship Global office in Decatur, Ga., and set out on a journey into full time pastoral ministry. Working at CBF allowed me to combine my passion for ministry – local and global – with my desire to push my Baptist family further into the Fellowship we can become.
Leaving my official role with CBF and heading into the local church was simultaneously one of the easiest and most difficult moments of my life. I knew that God ultimately called me to serve in the church and that Broadway Baptist would be a congregation in which I could grow and that could benefit from my ministry. And, as with any job, there were many days when I knew my time was running short at CBF.
Though at times it may have felt like it, CBF is not just a workplace – it is a community of creative and thoughtful people serving God together and faithfully trying to bring transformation to this world by inspiring, educating, and equipping churches and individuals who call the Fellowship home.
I started work at CBF in 2010 on a contract basis calling churches to remind them to order their Offering for Global Missions promotional materials. My friend Chris and I were tasked to call 1,800 churches over the course of two months in the fall and spring in effort to garner support for the Offering.
After four collective months and about 1,800 total phone calls, I felt so intimately connected to the churches I spoke with that I knew I had been led to CBF for more than just my pleasant voice (which, of course, is debatable). God had called me to CBF to hear the voices of those who desperately needed CBF to exist – who needed to know that they had a place to call home, and that no matter how isolated they felt in their small town, they were not alone. And I knew that it didn't matter how menial my work may seem, it would be worth it to give these people and churches a face and a name in the Fellowship.
Those first days as an Offering for Global Missions telemarketer and data monkey were not glorifying, but they put me in the middle of a team of people who mentored me, shepherded me, and helped to shape me into the person I am. I couldn't be more grateful for the colleagues who listened as I rattled on about how important it was to click on the right boxes in Raiser's Edge and how even the church that doesn't look like they have much to offer statistically needs our care. I am thankful that they listened and encouraged me to dig deeper so those ramblings could become actions and initiatives for the greater Fellowship.
Stepping into a permanent position on the CBF staff, and later becoming full time, I served through the departure of CBF's longest tenured Executive Coordinator, continued working under the leadership of an Interim Coordinator, and celebrated the appointment of our current Executive Coordinator, Suzii Paynter.
As with any transition, I saw the office staff shift between Daniel Vestal's retirement and Suzii Paynter's appointment. Many people I came to view as mentors found new avenues of investment in the Fellowship, and by the end of my time, I saw a complete restructuring in my own department, Communications and Advancement. In fact, the last time I visited the offices, I saw more new faces than former colleagues.
I remember Pat Anderson writing a blog post once during his tenure as Interim Executive Coordinator titled, "Do I Smell?" Or something equally tongue-in-cheek. The point, though, was not to cause concern for his leadership, but to ensure the wider Fellowship that the departures that become routine announcements on the CBFBlog were not an indication of CBF's downfall or metaphorical "body odor."
And he was right.
Naturally, transition makes people nervous. When a football coach leaves a program, the rest of the coaching staff rarely stays in place, allowing the coach to solidify his style and put people in place who can run the type of offense and defense that fits the program he seeks to build.
As a University of Louisville fan, I have seen this happen in both good and bad ways. But, here I sit with a Heisman Candidate Quarterback on the cover of Sports Illustrated and a team in National Championship Conversation. It took three years, but here we are, the team that handed Florida State University its worst loss in program history.
And I see the same thing in CBF. Suzii Paynter joined the CBF staff in 2013. Three years later, she has solidified her leadership team and pushed CBF forward into places we never dreamed even five years ago.
CBF now has a voice as a national leader in advocacy and policy reform. Our Global Missions staff has reenvisioned a way to do missions that builds on our long history of serving the most marginalized and neglected, with a deeper commitment to those who work tirelessly on the field. CBF churches and leaders are reignited their passion for the Gospel through initiatives like Dawnings and CBF Fellows. And, our communications and marketing materials continue to earn national recognition (a team and accomplishment that I am most proud of).
I struggled to leave CBF when I did, because I wanted to be part of this movement that was only stirring when I stepped away.
But, what I've learned over the past two years is that the CBF Staff is only a piece of the puzzle that shapes CBF into who it is and taps into the potential that continues to be so evident.
Over the past two years, I have gotten to serve CBF through young adult initiatives, including CBF Fellows. I am leading a team in celebration of the 25th Anniversary at General Assembly. And, I still get the opportunity to write stories about CBF people and churches in Fellowship magazine.
Like with football, the consistent success of a program relies almost totally on the investment of the fan base. And CBF continues to lean into those people who have spent the past 25 years faithfully attending General Assemblies, serving the Fellowship in local churches, and taking part in the transformative work of Global Missions. The staff and governance eagerly seeks out the voices of those who are just getting to know CBF, but want to make it their home.
They know, and we know, that the biggest asset for our Fellowship are those who continue to invest in the growth of this movement.
And though I often point to the leadership of Suzii Paynter and Daniel Vestal and Cecil Sherman, I am convinced that CBF would not be where it is today if it weren't for their uncanny ability to lean into the passions and hopes of the people they serve.
Two years ago, I packed up my cubicle, but I never packed up my passion for the work and ministry of CBF. And I know that there is enough talent and energy within the office in Decatur, I am also keenly aware of the impact of those of us outside the walls of the office who have the power to inspire and ignite the further growth of our Fellowship.
Twenty five years ago and today, the truth is the same: CBF is as strong as those who invest in the movement. Our history is one of growth – both deep and wide. Our potential is limitless – and limited only by those who have gifts to offer but stand silently on the sidelines.
If you go to a UofL game, you will find me there. I'll be cheering like I'm the only one in the stands. Imagine what could happen if we all cheered likewise for our Fellowship!
Read Emily's blog at RevOnTheEdge
_________________________________________________________________________________________
READING THE BIBLE TODAY: Take Some Time
by Mark E. Biddle

Mark E. Biddle, Dr.Theol (Zürich), is Russell T. Cherry Professor of Old Testament at Baptist Theological Seminary at Richmond. He has authored six books, ten translations, and more than 150 articles, reviews, and lectures. He is editor of R&E, and of the Reading the Old Testament (Smyth & Helwys) and the Smyth & Helwys commentaries.
When my children were still at home, one of them would sometimes find me sitting at my desk apparently doing nothing. Inevitably, he or she would ask what I was up to; invariably I would answer,"Working." I remember several such encounters very well because the child in question would also, without exception, express disbelief.
Our activity-oriented culture does not always appreciate the fact that creativity, problem-solving, analysis, and similar "thought-work" often require quiet contemplation. A scholar cannot schedule having a brilliant insight for 9:00 Tuesday morning (when I am writing this). A poem may be only a few lines of a few words each, but the poet must take the time to devlop the imagery and explore the possibilities of language – to craft the poem.
It is the beginning of a new semester. Therefore, I have not had the time for reflective contemplation lately. The situation reminds me, however, of an event in the life of the prophet Jeremiah that I find instructive. The Babylonians took Judeans as hostages on at least two occasions, a relatively small number in 597/6 BCE (the so-called "First Deportation") and again, in response to Judean recalcitrance, ten years later (the so-called "Great Deportation"). The first time, the Babylonians also plundered valuable objects from the temple; the second time, they breached the city walls of Jerusalem and destroyed the temple.
At some point in the interim, Jeremiah went to the temple to preach that Judah must repent of its infidelity to YHWH and submit to Babylonian overlordship for a time. To help make his point, he fashioned and wore a yoke to symbolize submission to the Babylonians. While in the temple, Jeremiah encountered Hananiah, who offered a competing message. To help make his point, Hananiah took Jeremiah's yoke, broke it, and announced that Babylon's dominance would have short duration and that both the exiles and the temple furnishings would soon return to Jerusalem.
Jeremiah's reaction astonishes. He confessed that, since this message was new to him, he needed time to wait on insight from the Lord.  He admitted that he hoped Hananiah was correct but that, although he also doubted it, ultimately he did not know. He did not, in that moment, have a word from the Lord. He needed the leisure of reflection. Consequently, Jeremiah simply went home!
The account of the episode goes on to relate that, after the passage of some time, Jeremiah did hear a forceful word from God: Hananiah was wrong; he had spoken falsely; and, therefore, not only would Babylonian dominance persist, but Hananiah, himself, would suffer divine punishment. And so it was: Hananiah died, Judah rebelled, and the Babylonians returned in vengeance.
Ironically, thinking about the fact that I have not had time to think lately has, after all, led me to a number of recognitions. The first, of course, involves the urgency of disciplining the use of time to create time in which thoughts can "happen."  German has a wonderful expression for this "happening" of thought. The phrase "Es ist mir eingefallen, dass…" (literally, "it fell into me that…"; in idiomatic English "it occurred to me that…") acknowledges that insights cannot be manufacture. Instead, they mature with time; they arise from observation; they "dawn" on us.
The second lesson I take from Jeremiah and Hananiah concerns the danger of yielding to the expectation that one can produce wisdom on demand. I have compassion for pastors, in particular, whose congregations expect them to propound profound truth Sunday after Sunday, when the same congregation also expects a sixty-hour workweek. Churches would benefit from  insisting that their ministers make room for ample time in scripture study, reflection, and prayer.
Finally, I take the exchange between Hananiah and Jeremiah as a cautionary tale for any who claim the authority of God's word. Hananiah, it seems, confused what he sorely wanted or his opinion of the state of affairs with divine inspiration. Like the leaders in the early church whom Paul castigated because "their gods [were] their bellies" (Phil 3:19), preachers (especially on radio and television) can easily identify their desires and fears with the will of God. It is probably good that we no longer stone false prophets.  Since God does not supply inspiration on demand, I recommend that, before speaking in God's name, one should take some time.
Mark Biddle blogs at Mostly on the Bible, where this article was originally published.

________________________________________________________________
A CALL FOR PAPER PROPOSALS:
Annual Baptist History and Heritage Society Conference
"Biographies and Narratives: Baptist Experiences and Convictions"
Augusta, Georgia
June 1-3, 2017
Held in conjunction with the 200th anniversary of one of the South's most historically significant congregations, the First Baptist Church of Augusta, Georgia, the theme of the 2017 BH&HS Conference is "Biographies and Narratives: Baptist Experiences and Convictions."
The Society welcomes individual paper proposals for this upcoming conference. Proposals should reflect the conference theme and be 500 words or less in length. Society members and non-members alike may submit proposals.
Proposed themed paper sessions are also encouraged. Suggestions for a themed session should consist of two to three paper presentations and a moderator. Proposals for creative sessions that do not focus on traditional paper presentations are also welcome.
Individual paper presenters will be allowed no more than 20 minutes for their presentations.
For more information about the conference, click here. Proposals for individual papers, themed paper sessions and creative sessions will be accepted until January 31, 2017. Conference registration will open in February 2017.
Written proposals may be submitted by email to brucegourley@baptisthistory.org.
_________________________________________________________________________________________
CALENDAR OF SELECT EVENTS
Upcoming events of interest to Baptists
September 27, 2016— "Talking about Race: Moving from Racism to Reconciliation." A conference hosted by New Orleans Baptist Theological Seminary's Institute for Faith and the Public Square. Registration is free. More information.
OCTOBER 2016 — 
Baptist History and Heritage Month, from the Baptist History and Heritage Society.
More information
.
JUNE 1-3, 2017 — 
Annual conference, Baptist History and Heritage Society, First Baptist Church, Augusta, Georgia. Theme: "Biographies and Narratives: Baptist Experiences and Convictions."
More information
.
AUGUST 2017 —  Nurturing Faith Experience, Glacier National Park, Montana. More information.